Ruth was excited to discover she was ranked 1# for her age category in 2017's "Orienteering North America" magazine! Orienteering is a sport in which individuals traverse a predetermined course over diverse terrain, using a topographical map and compass to navigate from point to point.
Having taught physical education for 25 years, Ruth has been active her whole life. She first tried orienteering at a workshop offered by the Appalachian Mountain Club and discovered she liked doing it and was good at it. Ruth continued to participate in the sport all over America, as well as Sweden, Scotland and Canada.
Forty years later, Ruth still enjoys orienteering, and has an impressive collection of plaques and medals on display.
Ruth isn't alone in her passion for the sport here at OceanView and participates in an orienteering group started by another resident. The group meets about 6 times throughout the year and has residents scrambling all over OceanView's 80 acre campus!
Sitting still doesn't seem to be easy for Ruth, as she also volunteers at multiple local organizations, which she was featured for on the WCSH 6 show "207." You may watch the segment below.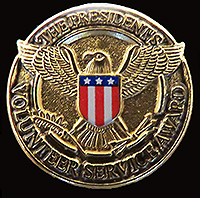 In April of 2018, Ruth was honored to be bestowed with the President's Volunteer Service Award from the Corporation for National & Community Service. With 4,347 hours volunteered in almost 11 years at
Maine Medical Center, she was one of only three of their volunteers who were awarded at the "gold level!"
Ruth has also been featured in the Maine Audubon Society's magazine, 'Habitat'. You will find her in the Spring 2018 issue on page 13 (slide 7): https://e.issuu.com/embed.html#31959686/60062012
You truly are an inspiration Ruth!