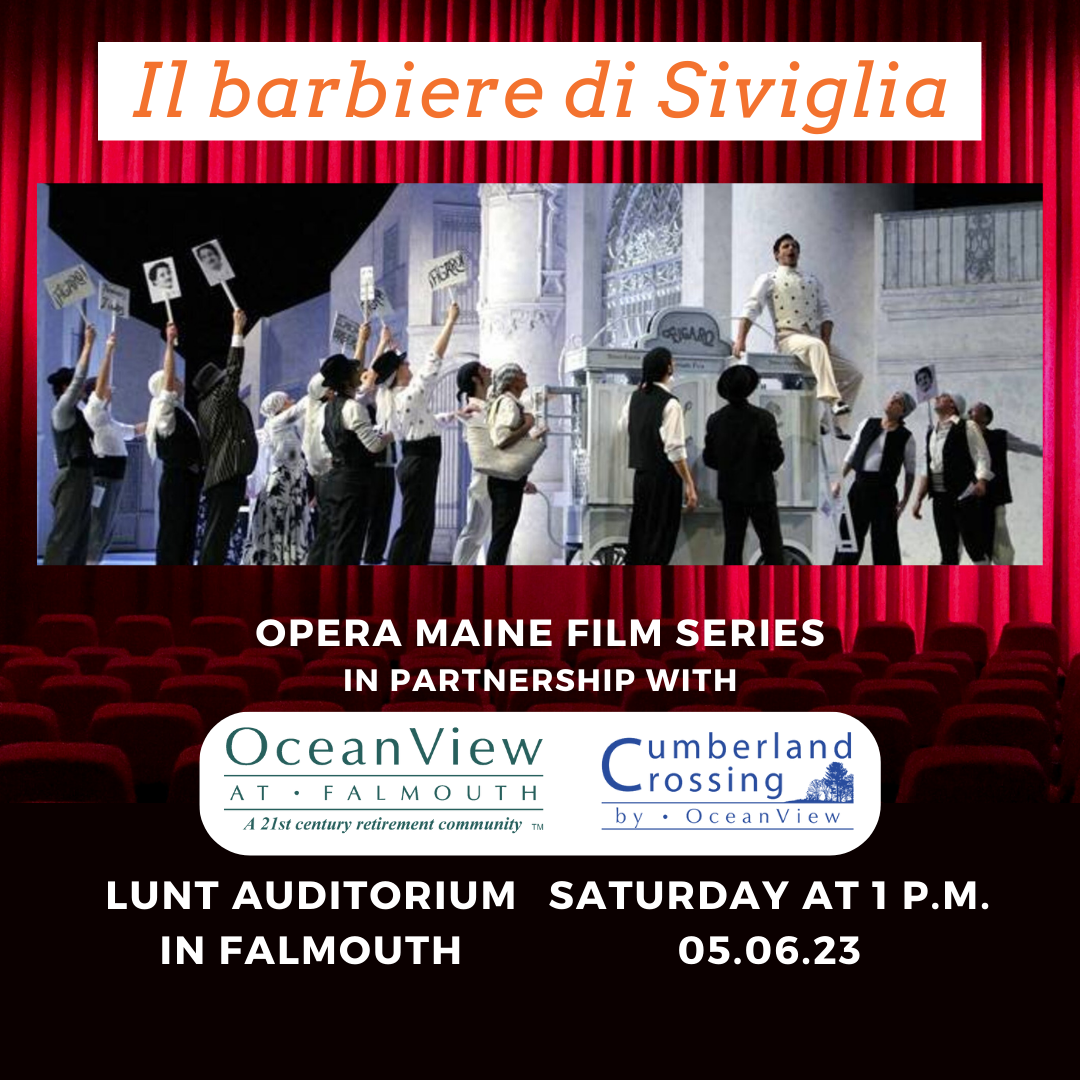 Please join us for a showing of Il barbiere di Siviglia (The Barber of Seville) on Saturday, May 6th at 1 p.m. at OceanView's Lunt Auditorium (74 Lunt Rd., Falmouth, ME 04105). Doors open at 12:30 p.m.
Gioachino Rossini's Il barbiere di Siviglia is considered to be one of the greatest masterpieces of comedy within music, and it remains popular and successful now after more than 200 years from its original premiere in 1816.
This 2005 rendition was performed in Madrid under the direction of Emilio Sagi. The title role of Figaro, the Barber of Seville, is embodied by the lively and tasteful Italian baritone Pietro Spagnoli, while Ruggero Raimondi and Bruno Pratico reconcile the audience with the unpleasant couple Don Basilio and Don Bartolo. The Spanish soprano Maria Bayo returns to one of her signature roles as Rosina, opposite Juan Diego Florez, the Rossini expert tenor.
Synopsis: At dawn, Lindoro and a band of street musicians are serenading the window of Rosina. Figaro, the Barber of Seville, arrives and recognizes his former master in disguise: Count Almaviva. Almaviva has fallen in love with Rosina and explains he wants to seduce her with his qualities and not with his money. The cunning Figaro is here to help Count Almaviva get inside the doctor's house who keeps Rosina locked in, in order to marry her.
The total running time for Il barbiere di Siviglia is 2 hours and 47 minutes. OceanView will provide light snacks and beverages. There will be an intermission between acts. This opera is sung in Italian and will have English subtitles.
For OceanView and Cumberland Crossing residents and members of our Priority Waiting List, please reserve your complimentary seat with the OceanView Activities Department. You may do so by following the link below or by calling (207) 781-4460.
For outside guests, please purchase your ticket online through Opera Maine's website.
Registration is required. This event takes place on a Saturday. Residents are asked to arrange carpools to Lunt Auditorium. The Activities Department can assist you with this.
The Opera Maine Film Series is an exciting new partnership between OceanView, Cumberland Crossing, and Opera Maine.
Masks are optional for those who are fully vaccinated.