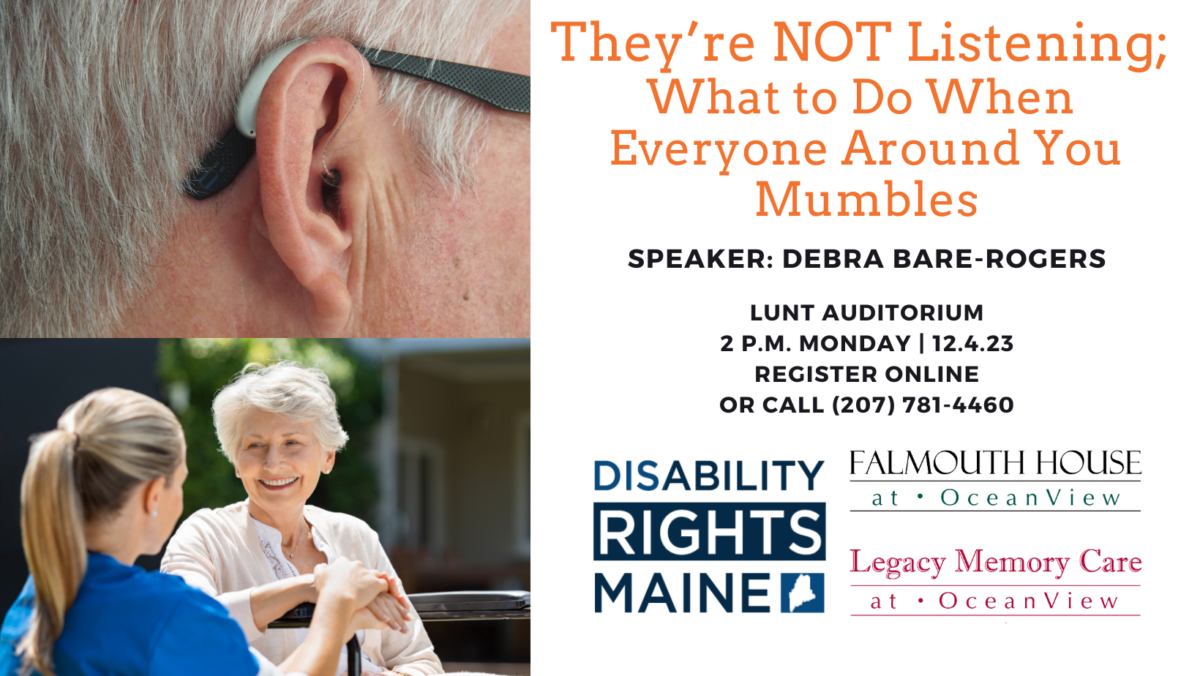 Please join us for They're NOT Listening; What to Do When Everyone Around You Mumbles on Monday, December 4th at 2 p.m. in Lunt Auditorium (74 Lunt Road, Falmouth, ME).
Why is everyone talking so quietly? Do I HAVE to get hearing aids? What else is out there? Or maybe, you are the one who is always being asked to repeat yourself. How can you support the person who struggles to hear at a family occasion? It can be frustrating for everyone involved. What can you do? There is no best answer. There are options and resources available. 
This presentation focuses on living with hearing loss 'in a hearing world'. Debra Bare-Rogers of Disability Rights Maine (DRM) will discuss how to talk with loved ones about hearing loss, communicating in social situations, choosing to get hearing aids (or not), and other resources (i.e. captioned phones and apps, Bluetooth, amplification, over-the-counter devices, and speech-to-text apps!). Bring your questions and join us!
Debra Bare-Rogers is an Advocate at DRM. She educates consumers about Maine Relay and the Telecommunications Equipment Program (TEP). Debra has served on several boards, including ALDA (Association of Late-Deafened Adults), HLAA (Hearing Loss Association of America), and Maine's Commission for the Deaf and Hard of Hearing. She is currently the ALDA Region 1 Director, covering the east coast and select international countries. In 2024, she wants to see an ALDA hearing loss group started in Southern Maine (Wanna help/join?). She is a certified Hearing Loss Peer Mentor. Debra shares her personal journey with hearing loss, encouraging people to 'LIVE every day to the fullest.'
Relay Closed Captioning (RCC) will be available on the projection screen, and for your own devices at the presentation, and also via Zoom.  Please contact Debra Bare-Rogers (drogers@drme.org) to request the Zoom link.
If you have questions you'd like Debra to address at the program, please contact her in advance (drogers@drme.org).
This program is free and open to the public. Registration is required.
Masks are optional for those who are vaccinated.
Tours of Legacy Memory Care will follow the program. Tours of Falmouth House are always available by appointment.
---