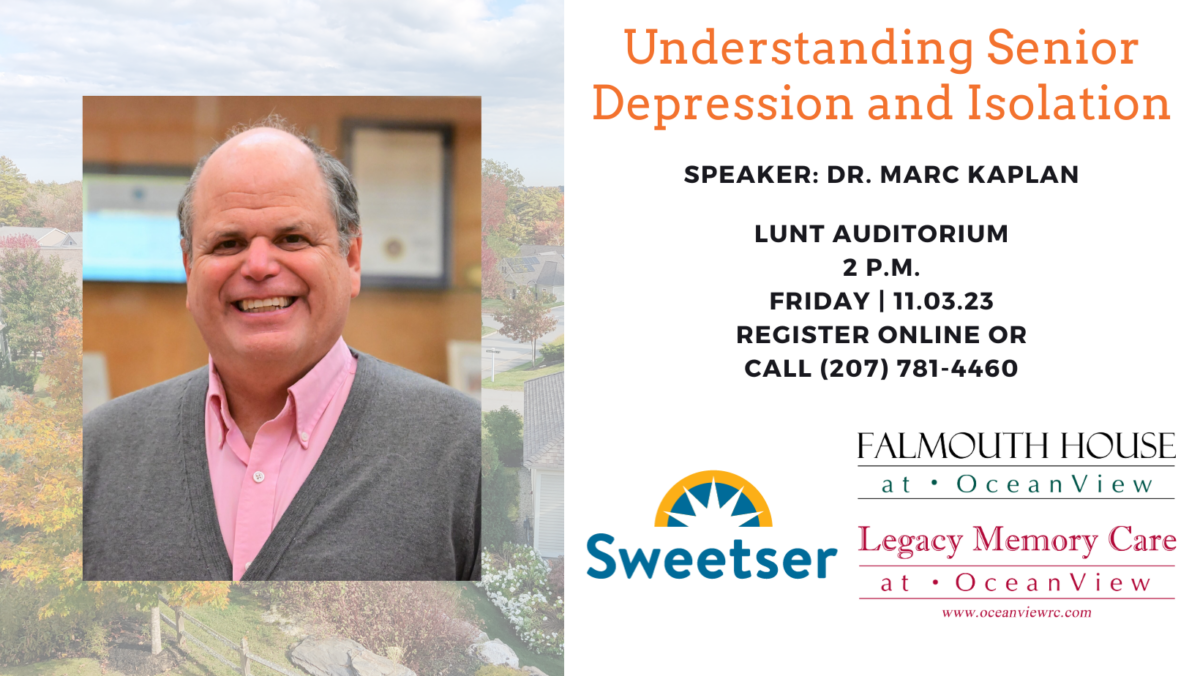 Please join us for Understanding Senior Depression and Isolation on Friday, November 3rd at 2 p.m. at Lunt Auditorium (74 Lunt Road, Falmouth, ME).
Sweetser's Chief Medical Director, Dr. Marc Kaplan, will speak about the state of senior mental health and available resources throughout Maine. He will break down the causes of isolation and how to identify depression.
Marc Kaplan, DO, joined Sweetser in August 1997 and serves as Medical Director. Sweetser is a behavioral health nonprofit that provides evidence-based treatment, support, and hope through a statewide network of community-based mental health, recovery, and educational services. Dr. Kaplan supervises psychiatric providers both at Sweetser and under contracts with other healthcare organizations. He consults all Sweetser clinical programs, leadership, and management teams. He's board certified in general psychiatry and completed a fellowship in child and adolescent psychiatry. Dr. Kaplan is a member of the Maine Association of Psychiatric Physicians. He completed a psychiatric medical director fellowship with the National Council for Mental Wellbeing and the Hanley Center's Medical Director Leadership program. Dr. Kaplan is also a professional percussionist and produces benefit concerts that have raised thousands of dollars for both Maine-based and national charitable organizations.
This program is free and open to the public. Registration is required.
Masks are optional for those who are vaccinated.
Tours of Legacy Memory Care will follow the program. Tours of Falmouth House are always available by appointment.
---