Check back monthly for a fresh recipe from Chef Jean!
Greek Moussaka
April 2023

"We have been making moussaka here at OceanView for years. It is a popular entrée in our Main Dining Room. The combination of the creamy cheese topping and rich tomato-based lamb braise is delicious." – Chef Jean.
Greek Moussaka Ingredients:
2 medium eggplant
Olive oil (as needed)
1 lb lean ground lamb
2 medium onions, peeled and chopped
2 tablespoons fresh minced garlic
1 (8 ounce) can tomato sauce
1 teaspoon dried oregano
1 teaspoon salt, divided
1/2 teaspoon fresh ground black pepper
Cheese Sauce Ingredients:
3 tablespoons butter
1/2 teaspoon salt
1/2 teaspoon fresh ground black pepper
2 tablespoons flour
1 cup half-and-half cream or milk
1 egg
1/2 cup grated parmesan cheese
Hot sauce
Instructions:
Grease a 9×9-inch baking pan.
Peel the eggplants then slice 1/4-inch thick.
Brush cookie sheet with olive oil.
Coat each side of sliced eggplant with olive oil then season slices with salt and freshly ground black pepper.
Place the eggplant slices on cookie sheet and roast till tender.
In the bottom of the prepared baking dish arrange half of the eggplant slices.
In a large skillet, combine lamb and onions; cook, stirring until the meat is no longer pink and the onions are soft; drain fat.
Add in the garlic, tomato sauce, oregano, 1/2 tsp salt and black pepper to taste; pour mixture over eggplant slices.
Arrange the remaining eggplant slices over the lamb mixture.
PREPARE THE CHEESE SAUCE: Melt the butter in a saucepan, whisk in flour, 1/2 tsp salt and pepper to taste; gradually stir in half and half or milk, cook and stir over medium heat until thick and bubbly.
In a small bowl, beat egg; stir in some of the hot sauce, then add egg to sauce mixture, mix well; add in Parmesan cheese, and stir again.
Pour the cheese sauce over mixture in baking dish.
Bake in a preheated 350-degree oven for 45 minutes or until internal temperature reaches 165 degrees.
Whole Grain Pancakes
March 2023

"Maine Maple Sunday is the weekend of March 26th, right around the corner! We enjoy a lot of pancakes here at OceanView – easy and quick for breakfast, lunch, or dinner. Add fresh fruit salad and a cup of your favorite hot beverage for a complete meal. Don't forget the Maine Maple Syrup!" – Chef Jean.
Ingredients:
1 cup whole wheat flour or white whole-wheat flour

1/2 cup old-fashioned whole rolled oats or quick oats

1/4 teaspoon salt

2 teaspoons baking powder

1 teaspoon ground cinnamon

1 large egg 

1 cup milk

2 tablespoons packed brown sugar

1/4 cup plain Greek yogurt

1 teaspoon pure vanilla extract
Instructions:
Stir the flour, oats, salt, baking powder, and cinnamon together in a large bowl. Set aside. In a separate medium bowl, whisk the egg and milk together. Whisk in the brown sugar and yogurt until no lumps remain. Whisk in the vanilla until combined.

Make a well in the dry ingredients and pour the wet ingredients in. Stir gently until just combined. Do not overmix the batter or your pancakes will be tough.

Heat a griddle or skillet over medium heat. Coat generously with cooking spray, oil, or butter. Once hot, drop about 1/4 cup of batter on the griddle. Cook until the edges look dry and bubbles begin to form on the center or sides, about 1 minute. Flip and cook on the other side until cooked through, about 2 more minutes. Coat griddle/skillet again with nonstick spray for each pancake or batch of pancakes.

Keep pancakes warm in a preheated 200°F oven or serve immediately.

Enjoy with warm Maine Maple Syrup!
Devils on Horseback
February 2023

"This is a popular and fairly simple appetizer to make and can be made ahead for a crowd. It goes great with a glass of wine or any beverage of choice." – Chef Jean
Ingredients:
20 wooden toothpicks
¼ cup reduced-sodium soy sauce
½ teaspoon ground ginger
¾ cup dark brown sugar
20 large Medjool dates pitted and left whole
20 whole smoked almonds
10 thin slices of bacon, cut in half crosswise
Instructions:
Preheat oven to 400 degrees.
Soak the toothpicks in a bowl of water.
Spray a 9×13-inch baking dish with nonstick pan spray.
In a bowl, mix together the soy sauce and ground ginger.
Place the brown sugar into a shallow bowl.
Spread open a pitted date, then stuff it with a smoked almond.
Wrap the date with half a bacon slice, secure it with a toothpick.
Dip the whole thing into the soy sauce mixture, and then dip it into brown sugar.
Place the wrapped dates into the prepared baking dish.
Bake in the preheated oven until the bacon is brown and crisp, 15 to 25 minutes. Allow to cool for about 15 minutes before serving; serve warm or at room temperature.
Chicken Milanese
January 2023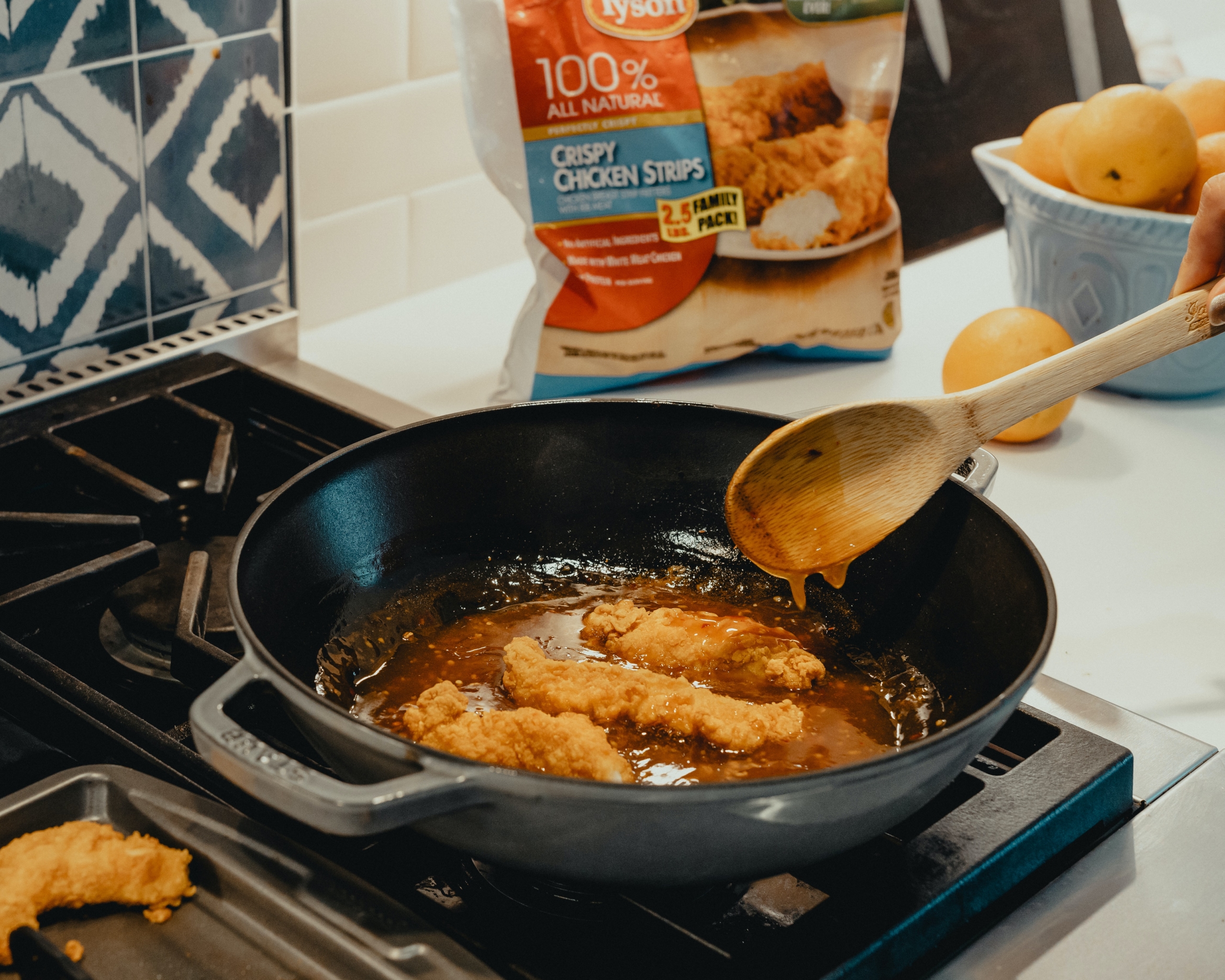 "This is a simple yet elegant chicken preparation from our dining room menu. I love the nutty flavor of the arugula with the hint of citrus and saltiness from the Parmesan cheese. All together, it's delicious!" – Chef Jean
Ingredients:
1 1/4 pounds boneless skinless chicken breasts
1/2 cup all purpose flour
2 tablespoons milk
3 eggs
salt and pepper to taste
1 cup Italian style breadcrumbs
1/4 cup panko breadcrumbs
1/4 cup olive oil
For the salad
Ingredients:
2 cups baby arugula, or baby spinach leaves
1/4 cup red onion thinly sliced
1/2 cup cherry tomatoes halved
1 tablespoon lemon juice
1 tablespoon olive oil
2 tablespoons shaved parmesan cheese
salt and pepper to taste
Instructions:
Cut each chicken breast in half lengthwise. Place each piece of chicken in between two sheets of plastic wrap. Pound with a meat mallet or a heavy pan until uniformly thin.
Place the flour in a bowl and season it generously with salt and pepper to taste.
Place the milk and eggs in a separate bowl and whisk to combine.
Place both types of breadcrumbs together in a separate bowl and stir to combine.
Dip each piece of chicken in the flour, then the egg mixture, then the breadcrumbs. Set aside on a lined sheet pan.
Heat the oil in a large skillet over medium high heat. Add the chicken cutlets in a single layer.
Cook for 4 minutes per side, or until golden brown, crispy, and cooked through. Set aside and keep warm while tossing the salad topping.
For the salad
Place all the salad ingredients in a bowl and toss well to combine.
Arrange the salad either on top of, or next to, the chicken cutlets. Serve immediately.