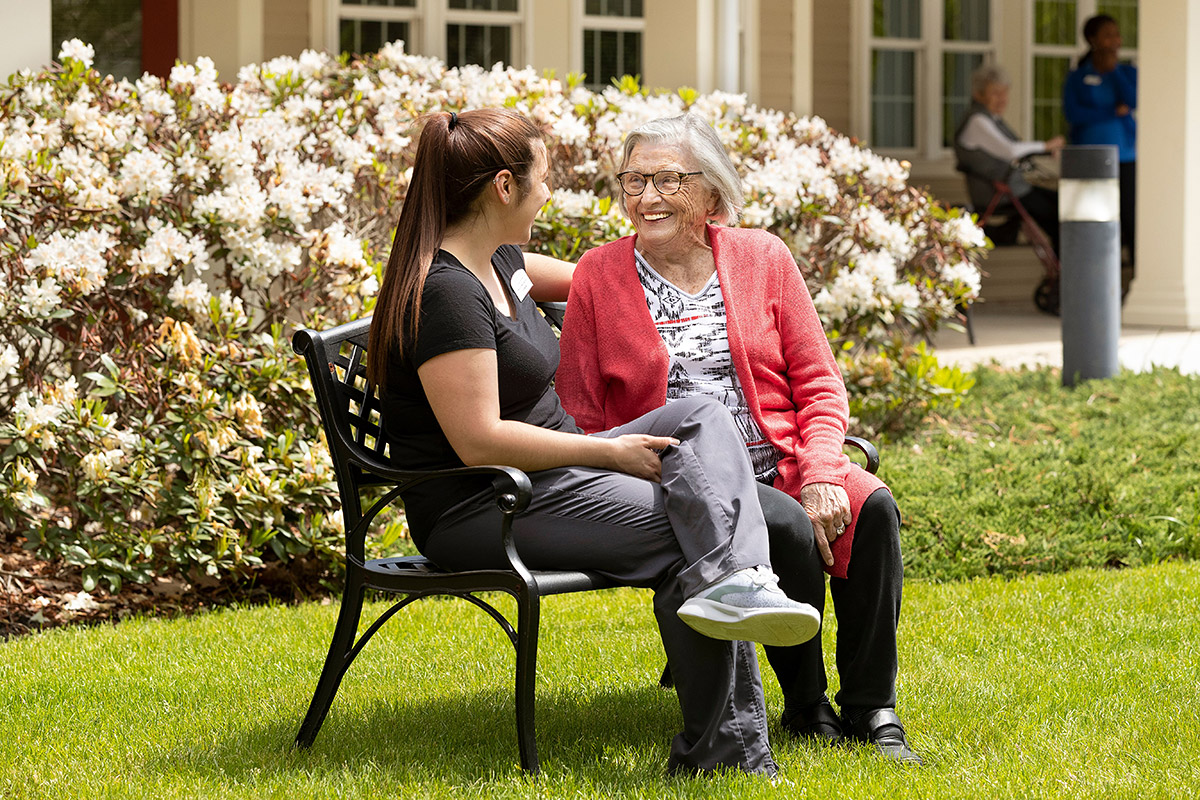 As people age, needs can change and factors that may not have been considered previously now come into focus. Moving into a retirement community that offers assisted living helps seniors live their lives to the fullest. Communities like OceanView at Falmouth give seniors the freedom to enjoy retirement with the assurance that any assistance needed is right at their fingertips. Assisted Living can sometimes be accessed directly from the home without transitioning through the community from Independent Living.
Important Questions to Ask When Researching an Assisted Living Community
Communities can vary significantly, so it's essential to ask the right questions as you tour each assisted living community. We've put together some important questions to include as you do your research!
Housing Options
Learn about Assisted Living apartment options by asking the following:
What different sizes of apartments are available?

Does the apartment come furnished?

Is the apartment private or shared?

What are standard inclusions in the kitchen (full kitchen or kitchenette)?

Are apartments customizable?

Are there apartment layouts available to view?
Maintenance & Amenities
Determine what your maintenance options are, as well as any additional amenities available, by asking the following:
What is on-site security like?

Is security available after hours?

Are there transportation services available?

Is there a plan in case of inclement weather or a power outage?

Is there a maintenance team?

Are there housekeeping or laundry services available?

What amenities are available to residents?

Are pets allowed in the community?
Healthcare Services
Choose an assisted living community that you can trust to provide health care services by asking the following:
Is staff available 24/7?

What certifications, degrees or training does your staff have?

What is your staff-to-resident ratio?

Can staff help to administer medication?

How close is the nearest hospital?

Would I have the same caregivers or in-house physician throughout my stay?

Can I continue to see my primary care provider?
Dining & Meal Options
Learn about the various types of dining options available to residents by asking the following questions:
Are meals included? How many per week? Per month?

Are there choices at each meal?

What types of dining options are there?

What are the dining option details and pricing?

What if I'm still hungry after meals?

Do you need to reserve meal times?

Are substitutions available if needed?

Are my dietary restrictions (if any) taken into consideration? 

Is there a nutritionist to meet with if necessary?

Are meals delivered to my room or will they be served in a dining room?

Is private dining available for special events?

Can I see a copy of the current menu?
Social Activities & Wellness
Get an idea of what the social scene is, as well as any fun activities or events happening in the community, by asking the following questions:
How many residents live in the community?

What does your activities schedule look like?

Do activities change regularly?

How is the resident turn-out for activities?

Are there any clubs to join?

Is it easy for residents to get involved in activities?

What are the fitness classes available?

Are there amenities such as a fitness studio, pool or training room?

Who leads the fitness classes? 

Do trainers have certifications or degrees?

Are classes able to be modified for residents if needed?

Are there any special activities that occur off campus?

Are there spa or salon services available?
Financing & Pricing
Better understand the pricing options and affordability of an assisted living community by asking the following questions:
What is your pricing structure?

What does the pricing cover? What doesn't it cover?

Is there an entrance fee?

Should I anticipate an increase in fees after a certain amount of time?

Is financial assistance available?

Is assisted living tax deductible?

Is long-term care insurance accepted?

Does pricing change if I were to move to a different type of care or housing situation?
Loved Ones
Learn about opportunities to connect with and spend time with loved ones by asking the following questions:
Can my family and friends visit me?

Are there limitations to when loved ones can visit?

Can loved ones stay overnight?

Can loved ones join me for meals or activities in the community?
OceanView at Falmouth
OceanView at Falmouth is a retirement community with a care continuum that offers a full spectrum of retirement living options, including assisted living at Falmouth House and Legacy Memory Care for those with Alzheimer's disease and other dementias.
With RN's on campus, and licensed professional nurses available 24/7 in Assisted Living, you never need to worry about access to quality care. We work with you to create a customized healthcare plan, including medication management and personal assistance as needed. 
Contact Us About Our Assisted Living & Memory Care Openings
There are many questions that will help you get an idea of which assisted living community is a good fit for you. The more information you have, the more informed your decision will be! To learn more about Falmouth House Assisted Living and Legacy Memory Care's newest Stewart Neighborhood apartments, please contact us online today or call us at 207-781-4621.
https://oceanviewrc.com/wp-content/uploads/2019/11/fhouse_1.jpg
800
1200
Callie Walker
https://oceanviewrc.com/wp-content/uploads/2019/10/ovlogo.png
Callie Walker
2021-03-08 17:03:32
2023-06-16 09:34:20
Important Questions When Choosing an Assisted Living Community