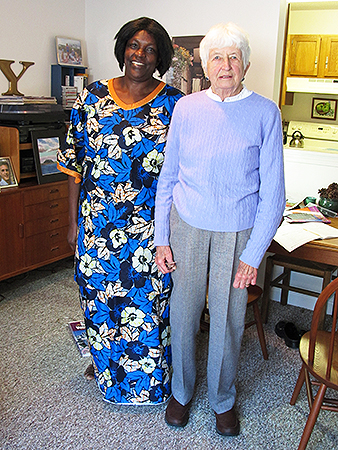 With a Master's degree in English Literature, Isabel taught at the University of Southern Maine and for 15 years at Waynflete School. After she retired, Isabel volunteered for Portland Adult Education by helping immigrants learn English. She tutored individuals from Afghanistan, China and South Sudan. She helped many prepare for their Citizenship exams and saw some of them actually sworn in.
When Isabel moved to OceanView, she wanted to know if there were any volunteer opportunities here for her to continue English tutoring. OceanView staff got Isabel connected with Agnes, an employee in our Food Services department who had fled from Rwanda.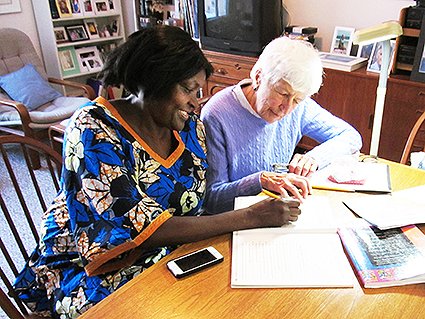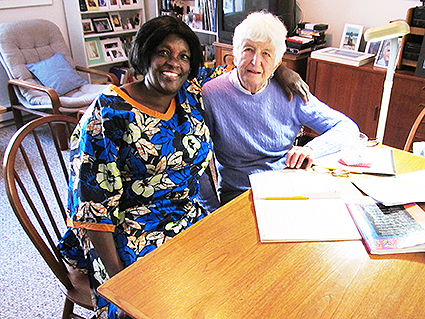 Agnes has good English speaking skills, so writing has been the primary focus of working with Isabel over the past 6 months, but their friendship continues to grow beyond the textbooks. When Agnes saw Isabel's sewing machine, they discovered they both shared an interest in sewing, and have found other activities in common they both enjoy.
Both Agnes and Isabel say they have enjoyed the experience very much. With Agnes having survived dangerous situations to get to America and having friends and family members not be as lucky, Isabel says she is thoroughly impressed at how cheerful, positive and resilient Agnes is and says Agnes has a lot to teach her, as well.
https://oceanviewrc.com/wp-content/uploads/2019/09/Agnus-Isabel-3.jpg
450
338
Dustin Bonk
https://oceanviewrc.com/wp-content/uploads/2019/10/ovlogo.png
Dustin Bonk
2016-01-19 00:00:00
2023-06-16 09:41:48
Resident & Employee Tutoring Friendship