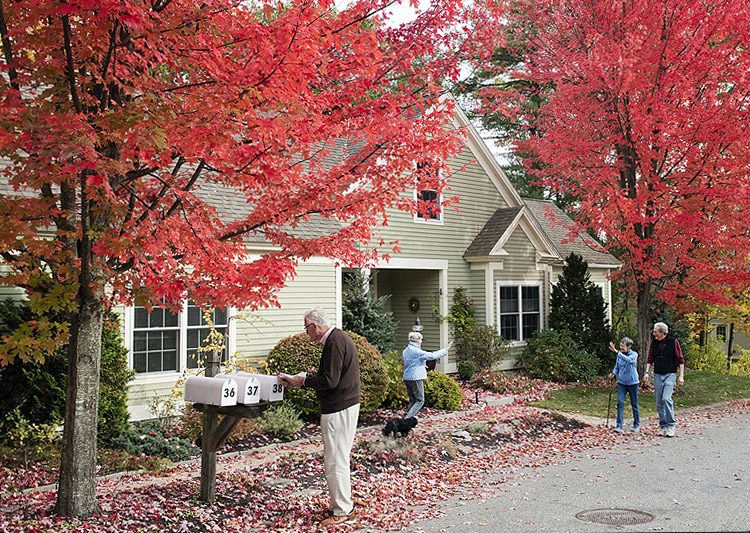 As we age, we inevitably become more vulnerable to certain risks in life, which brings the importance of safety to the forefront. It makes choosing the right place to enjoy your retirement years an important decision. Active retirement communities offer incredible lifestyle advantages, such as maintenance-free living, convenient amenities, and endless social opportunities. They also provide thoughtful safety measures like easy healthcare access and on-campus security that offer peace of mind for your future, so you can simply enjoy your retirement! Below, we highlight several ways that a senior living community can offer safety to residents. 
1. Home Safety and Maintenance
When you move to a retirement community like OceanView, we take care of any and all maintenance that you'd like us to, both inside and outside! From landscaping to housekeeping, our maintenance services allow you to spend your retirement years doing what you love instead of worrying about upkeep. Not only that, but by taking home maintenance out of the equation, you are reducing the risk involved in those tasks (think getting on a ladder to touch up exterior painting or to dust a hard-to-reach spot).
Not only that, but we incorporate built-in safety features to our homes for an extra layer of resident protection. Thoughtful details such as emergency call systems, slip-resistant flooring, and strategically-placed handrails are discreet – you may not even notice them – but important to help seniors enjoy a worry-free life!
For those with additional care needs, our Falmouth House assisted living and Legacy Memory Care housing offers options for assistance with bathing, dressing, and anything else residents may need!
2. Emergency Preparedness
At OceanView, we have certain emergency protocols in place, such as emergency planning, communication and risk assessment, so you can rest assured that should any emergency crop up, it will be handled with safety in mind. This goes for circumstances like natural disasters, infectious disease outbreaks, fires, and other urgent situations. Though these emergencies are uncommon, consider it one less thing you need to worry about as you enjoy your retirement years!
3. Easy Access to Healthcare
Living in a retirement community like OceanView means you have immediate access to healthcare services, offering an additional level of security. Knowing that healthcare is easily available if you need it can make all the difference! 
Residents at OceanView have access to an onsite wellness office, complete with a complimentary annual health review and our Community Wellness Coordinator, a Registered Nurse who provides multifaceted services. We also offer Health Care Advocacy services as part of our maintenance fee, for independent residents who may need some extra support – whether it be due to a scheduled procedure, short-term illness, or emergency.
4. Fitness and Wellness
As we age, we develop specific fitness and nutrition needs that need to be maintained in order to live a healthy, well-balanced life. While this factor may not be the first to come to mind when you think of safety for seniors, it's no less important than some of the other features we've mentioned!
Retirement communities like OceanView make wellness easy. Our fitness department is designed to accommodate residents of all abilities, with numerous activities to help you stay fit. From individual training to group exercise classes, such as water aerobics in our four-season saltwater pool, strength training or yoga, you are sure to find a workout you love! We also offer a unique Golf FORE Life program, providing complimentary access to two of the most beautiful golf courses in Maine: Val Halla Golf Course and Falmouth Country Club.
5. On-Campus Security
Maintaining a safe environment is an essential part of retirement communities. At OceanView, we have a roaming security patrol service at night, access to a triage nurse by phone 24/7, and of course, emergency call systems in every home. Our neighborhoods, walkways and all common areas like entrances and parking areas are well-lit for safety at night.
OceanView at Falmouth
OceanView at Falmouth offers retirement living for the 21st century! From independent apartments and cottages to assisted living and memory care, our homes provide hassle-free retirement living, security and peace of mind for the future. 
We offer a variety of financial arrangements for our independent cottages and apartments, including a 100% refundable entrance fee. We also take care of insurance, property taxes, water and sewer, in addition to housekeeping and all interior and exterior maintenance. To learn more about our community at OceanView, please contact us today!
https://oceanviewrc.com/wp-content/uploads/2020/01/best_decision.jpg
533
750
Callie Walker
https://oceanviewrc.com/wp-content/uploads/2019/10/ovlogo.png
Callie Walker
2022-05-17 08:14:38
2023-06-16 09:29:31
5 Ways Senior Living Communities Offer Safety to Residents