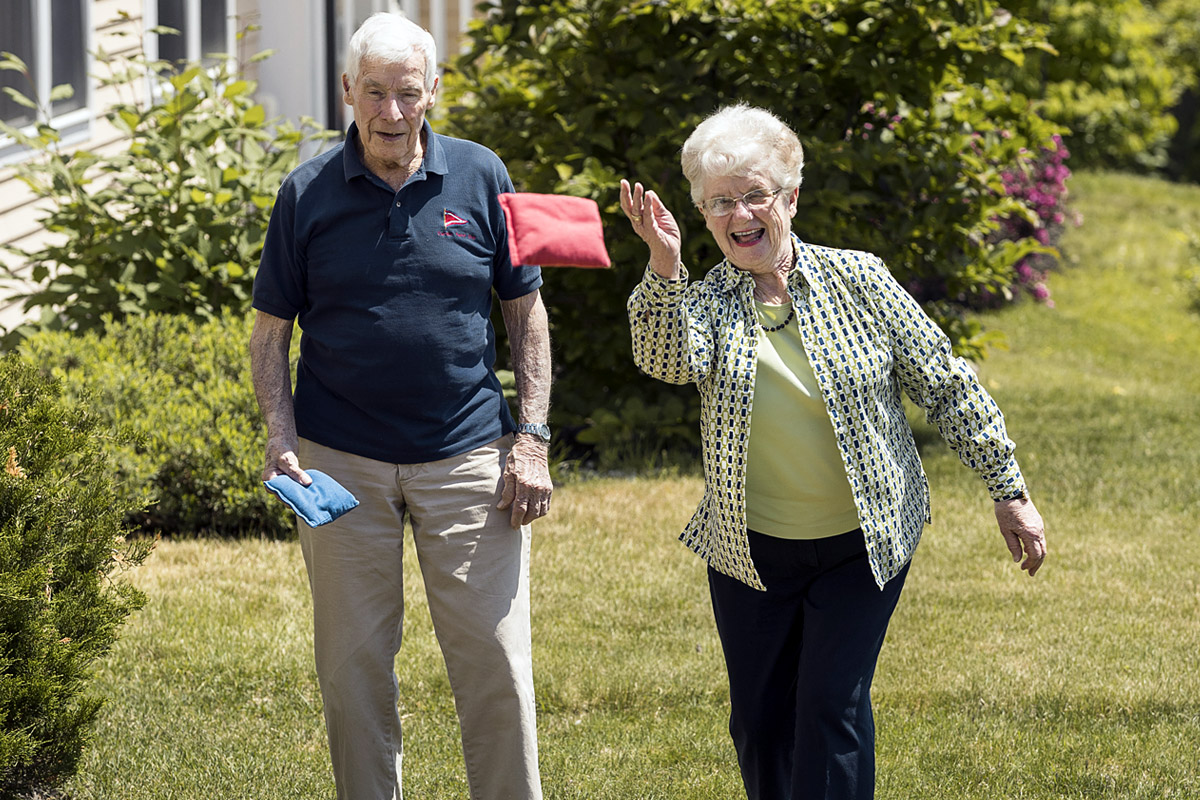 Retirement communities can sometimes get a bad rap, but we are here to prove all those common misconceptions wrong! We know firsthand that an independent retirement community like OceanView at Falmouth is an incredible way to spend your retirement years. Below, we break down some of the most common myths about independent retirement communities and the real truth behind each!
Myth: People living in retirement communities don't have any independence.
Truth: When living in an active retirement community like OceanView, seniors are able to truly enjoy their freedom in any way they choose. The luxury of a retirement community is not having to worry about the responsibilities that come with a career or homeownership. Instead of being restricted by home maintenance or housekeeping, you can spend time doing what you actually enjoy, whatever that may mean to you.
For some, activities could include aerobics classes and taking advantage of our heated indoor/outdoor saltwater pool. For others, it may mean tending to their gardens, walking with friends or taking part in art classes. The choices are truly endless when it comes to pursuing one's passions within the community, with endless options for fun, socialization and relaxation.
Myth: Pets aren't allowed within retirement communities.
Truth: We love your furry friends and would be happy to have them join our community! In fact, studies have shown that having pets is wonderful for your health and can increase longevity. At independent retirement communities like OceanView, you'll find that many residents enjoy their retirement alongside their beloved dogs and cats.
Myth: I'm too young to move to a retirement community.
Truth: This is a very common misperception, especially when it comes to active retirement communities. OceanView has a vibrant community of retirees living life to the fullest, with our goal to support the wellness of our independent residents. 
We do have customizable options should care needs arise, with a supportive link between Independent Living and our Care Continuum. This is available so residents can have peace of mind for the future and do what they came to our community to do – relax and enjoy themselves!
Myth: There's nothing to do – I'll get bored.
Truth: Trust us – this is as far from the truth as it gets! If you've reached retirement age, it likely means you've spent the last 30-40 years hard at work building a career, raising a family, or both. Now, you have the time and freedom to spend on YOU. The world is your oyster! 
There are so many activities available and endless opportunities to try new things (or simply enjoy old favorites!) at OceanView. Always wanted to polish your golf game? We offer our Golf FORE Life program, providing complimentary access to three incredible courses. Interested in taking online classes? University of Southern Maine's Senior College's Osher Lifelong Learning Institute (OLLI) is a very popular local continued education option that allows you to choose from a wide array of peer-taught science or liberal arts courses. Looking for a fun workout? Try our fitness classes, taught by our certified fitness trainers who have master's and bachelor's degrees in exercise sciences. There's no end to the options at your fingertips in a community like OceanView!
When it comes to choosing an independent retirement community, don't rely on myths when the truth is so much better than can be imagined! Enjoy your golden years in the best way possible with the freedom, amenities and stress-free living of a retirement community like OceanView at Falmouth. To schedule a showing or simply learn more, contact us today!
https://oceanviewrc.com/wp-content/uploads/2019/12/fhouse_3.jpg
800
1200
Callie Walker
https://oceanviewrc.com/wp-content/uploads/2019/10/ovlogo.png
Callie Walker
2020-08-06 19:31:50
2023-06-16 09:34:33
Busting Common Myths About Moving to an Independent Retirement Community