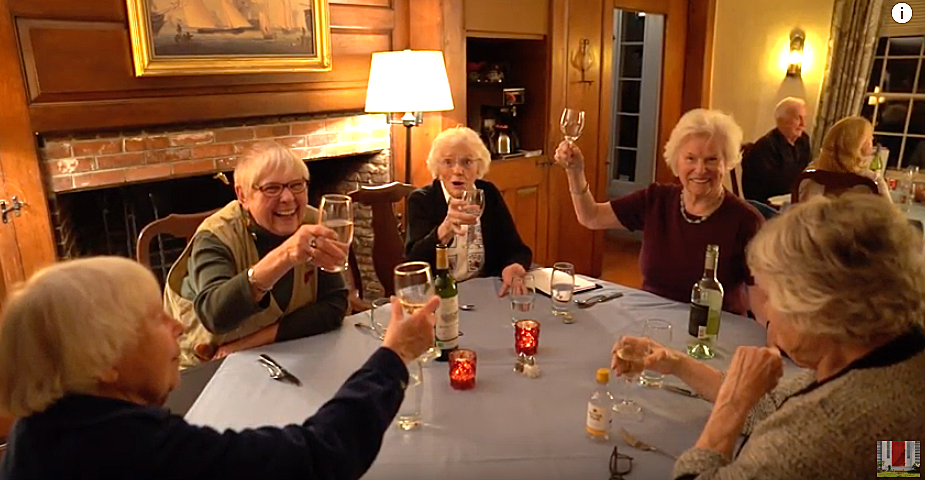 As we age, our nutritional needs change, and it becomes increasingly important to pay attention to what we eat. That's why many seniors choose retirement communities that offer meal options that cater to their specific needs. OceanView at Falmouth, one of our active retirement communities in Maine, offers a wide range of dining options that cater to seniors' nutritional needs. In this blog, we will explore all of the advantages of dining at retirement communities like OceanView and how it can benefit residents!
360° Dining Experience at OceanView
OceanView is proud to offer what we call our "360° dining experience," which is made up of more than just high-quality food. Our goal is to make dining the best part of your day – whether it's a holiday, special celebration, or just another weekday! 
We have several dining options available at OceanView, including the following:
Main Lodge Dining Room – Come join us for dinner five nights a week, indulge in a Saturday breakfast buffet, or relax at our signature Sunday brunch! We serve a hearty selection of entrées, side dishes, soup of the day, a fresh salad bar, and absolutely decadent desserts!
The Gazebo Grille – The café is open for complimentary coffee, tea and muffins, mornings Monday through Friday. For lunch, our menu includes homemade soups, grilled paninis and quiches, crisp salads, freshly baked pastries, indulgent desserts, summer BBQs and even lobster rolls! If you are stopping for a quick bite, we provide takeout boxes and a selection of freshly prepared "grab-'n-go" items. If you're looking to stay for a while, sit and enjoy our large windows, French doors and patio seating with stunning water views. 
Whipple Farmhouse – Built in 1756, this historic farmhouse is home to a wonderful neighborhood restaurant on OceanView's campus. Offering a seasonally-focused menu featuring a wide variety of dishes, from entrées and appetizers to salads, soups and desserts, there is truly something delicious for everyone to enjoy. Residents and their guests can enjoy dinner on Thursday, Friday or Saturday nights, whether in our lounge, on the stunning patio, or in our private dining room.
Good-to-Go Meals – Have a busy schedule but need a quick bite to eat? A freshly-prepared meal is just a quick phone call away! Contact our front desk with your meal selections and we will deliver it directly to your door, anywhere on the OceanView campus.
Catering – Don't forget about the events! Whether you're hosting a cocktail party or a five-course dinner, our Dining Service staff is here to handle anything you need. Rather than worry about hosting, simply enjoy your special occasion with loved ones and let our team at OceanView do the rest!
Advantages of Retirement Community Dining
Convenience – There is nothing quite like having someone else cook for you! You don't have to worry about grocery shopping, cooking, or cleaning up afterward. Instead, you can sit back, relax, and enjoy a well-planned meal with friends and neighbors. Moreover, if you have any dietary restrictions or preferences, the talented chefs at OceanView can accommodate your needs.
Nutrient-Rich Dishes – Another significant advantage is the nutritional value of the food being served, with the health of residents at top of mind. At OceanView, the chefs use fresh, organic, and locally sourced ingredients whenever possible to prepare all of our meals. You can rest assured that the meals served are packed with essential nutrients and vitamins that will help keep you healthy and happy!
Changing Menu Options – Perhaps one of the best benefits of on-campus dining at a community like OceanView is the daily changing menu options. Residents can indulge in a variety of meals each day, ensuring a diverse and flavorful experience. We also offer an "Everyday Menu" with a handful of classic standards, should the specials of the day not be favorites.
Social Opportunities – Dining at retirement communities in Maine, like OceanView, provides seniors with ample social opportunities; you can eat meals with friends and neighbors while enjoying lively conversations. It's a win-win – enjoy a delicious meal while promoting mental, emotional, and social wellness!
OceanView at Falmouth
Dining at retirement communities like OceanView offers numerous advantages for seniors, from the guaranteed nutritional value of meals to convenient dining options and daily changing menus. OceanView dining also promotes social wellness, creating a friendly and enjoyable atmosphere when dining. 
If you're looking for active retirement communities in Maine with excellent meal options, look no further than OceanView at Falmouth! To learn more about our community or to schedule a tour, please contact us today.
https://oceanviewrc.com/wp-content/uploads/2019/10/360dining.jpg
480
925
Callie Walker
https://oceanviewrc.com/wp-content/uploads/2019/10/ovlogo.png
Callie Walker
2023-06-19 13:41:18
2023-06-19 13:41:18
Incredible Advantages of Retirement Community Dining