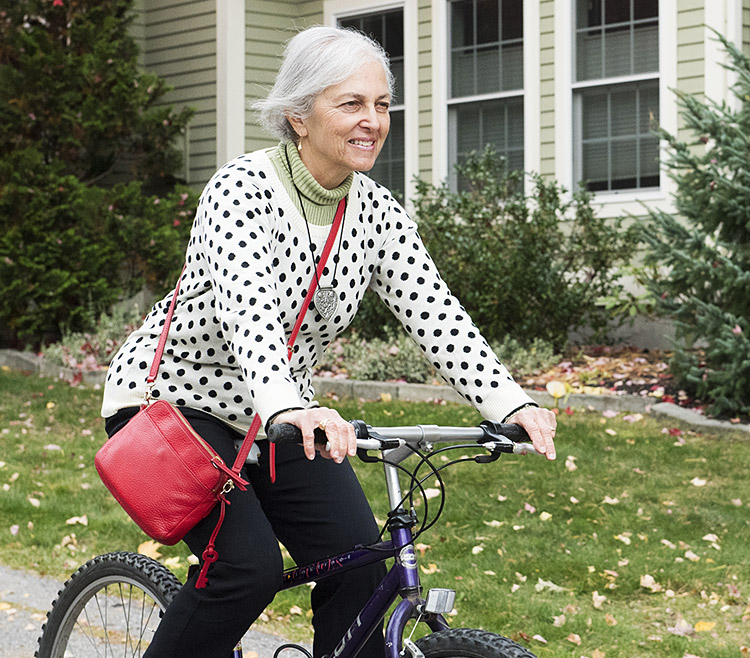 There are many wonderful benefits to consider Maine for active, independent retirement living – fresh air, unique local culture, nature trails and hikes seemingly around every corner, and the city of Portland, which has a downtown made for walking and a food scene like no other. But did you know that living in the Portland Maine area may actually help you live longer? 
Learn more about longevity "Blue Zones" and all the age-forward health benefits that living in Maine can offer!
What is a "Blue Zone"?
In a recent article from Parade, Portland was ranked as one of the best 8 cities in the United States to help you live to be 100 years old! According to Dan Buettner, a National Geographic Fellow who's studied the world's longest living humans: "I would argue that the biggest impact on how long you live is where you live." He's designated these hotspots, which include Okinawa, Japan and Sardinia, Italy, "Blue Zones." Simply put, these are places throughout the world, which support good habits to pick up that encourage longevity.
Why Portland, Maine?
Portland, Maine's largest city, is still relatively small at just about 67,000 residents. Located on a peninsula overlooking the Atlantic ocean, there is an abundance of health-forward lifestyle options that contribute to longevity.
Top-Notch Healthcare
Close to some of the best hospitals and healthcare providers available, including Maine Medical Center and Mercy Hospital, there is no shortage of affordable healthcare in the Portland area, especially for ongoing care. 
Security & Safety
Maine has long been ranked the #1 safest state in the U.S. This extremely low rate of crime means one less thing you need to worry about in your day-to-day life. Lowering stress levels is essential for longevity!
Low Cost of Living
On average, the cost of living in Maine is about 4% lower than other states in the U.S., allowing for better access to healthy living opportunities. This means you have more flexibility to put your hard-earned retirement dollars towards health-forward lifestyle choices.
Vibrant Local Culture
Immersing yourself in local culture can help keep aging minds young and sharp. Maine has something for everyone. If you're interested in art, the Portland Museum of Art is home to thousands of pieces ranging from world-renowned artists like Picasso and Matisse to local artists. Looking for ongoing education? The University of Southern Maine's Osher Lifelong Learning Institute (OLLI) is an excellent opportunity for seniors to learn something new or dive deeper into favorite topics. If you're passionate about cuisine, explore the unique food scene that Portland has to offer, with an endless variety of award-winning restaurants to try. Enjoy every minute of your retirement in Portland while boosting longevity in the process!
Beautiful Scenery
Nothing is more relaxing than the rugged, raw beauty of Portland's landscapes – walking the historic cobbled streets along the salty Casco Bay, taking the ferry out to the craggy local islands, taking in a fiery sunset over the sea. Not only that, but Maine's renowned landscapes mean there are plenty of options to stay active, including hiking, downhill and cross-country skiing, and swimming.
OceanView at Falmouth
Retiring in Maine means having access to many health benefits, including fresh local food, ongoing education, affordable healthcare, and extensive outdoor activities. It's not considered one of the best "Blue Zone" cities in the U.S. for nothing! 
At OceanView we prioritize the wellness of our residents, with health and fitness being an integral part of our community. Located just a few miles from Portland, Maine, OceanView is truly Maine independent living for the 21st century, with endless opportunities to enjoy your retirement years. To learn more, contact us at OceanView today!
https://oceanviewrc.com/wp-content/uploads/2019/12/schedule_visit6.jpg
658
750
Callie Walker
https://oceanviewrc.com/wp-content/uploads/2019/10/ovlogo.png
Callie Walker
2021-02-16 18:00:14
2023-06-16 09:34:22
Portland, Maine Ranked as a City That Can Help You Live to 100!