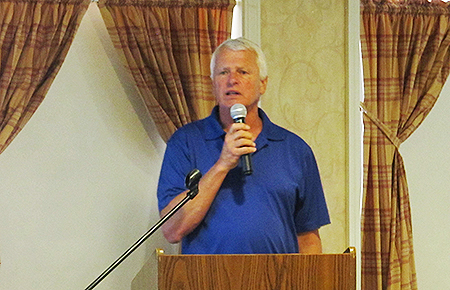 Artist's rendering of Completed Expansion
In November 2014, Falmouth residents voted overwhelmingly to approve the town issuing of a $2.8 million bond to cover half the cost of expanding the library. The remainder of the $5.6 million project will be raised through individual and business donations through a two-year fundraising campaign.

Robert Emple, Treasurer & Capital Campaign Steering Committee,
Library Board of Trustees
A host committee of OceanView residents held a wine and cheese reception on Tuesday, September 8th, for a presentation on the project.

Architect, Scott Simons
The expansion will allow for an increased collection of books and other media, added technology and meeting spaces. Even with the addition of approximately 8,000 square feet, energy costs are expected to go down, thanks to the energy efficient building and improvements.

OceanView Owner, John Wasileski
John Wasileski, OceanView's Owner, said he has "always intended OceanView to be a part of the community, not apart from it." John is especially excited that the expansion will allow for increased collaborative programming and services offered between OceanView and the library. He went on the say, "As OceanView residents, your property tax is included in your monthly fee, so you may feel you've already contributed your part. OceanView is the town's largest taxpayer and I could have said the same, but I feel this need is important and therefore am pledging $250,000 and am challenging all of you to match that amount!"
For more information on the Falmouth Memorial Library's expansion and how you can help support this important effort, please visit: www.supporttheexpansion.com
https://oceanviewrc.com/wp-content/uploads/2019/09/Library5.jpg
290
450
Dustin Bonk
https://oceanviewrc.com/wp-content/uploads/2019/10/ovlogo.png
Dustin Bonk
2015-09-21 00:00:00
2023-06-16 09:41:51
OceanView Owner Pledges Quarter Million Challenge Grant to Town Library Expansion