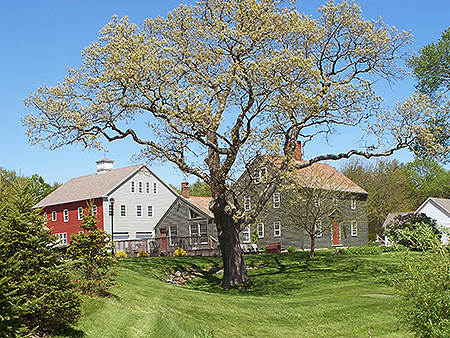 In 2003, OceanView owner, John Wasileski, purchased the historic Whipple Farm property and custom-built 42 homes, nestled into the hillside. The dedication of 5 acres of conservation land preserved the picturesque view of the original farmhouse, which now houses Whipple Farm Distinctive Dining and is used as an event and activity space for OceanView residents and their guests. This week, a celebratory 260th Anniversary Dinner was held in the farmhouse, featuring a Colonial-inspired tasting menu and a few special guests who hadn't set foot in the house for decades.
The five-course dinner menu: Blueberry Merlo, Venison Sausage, Native Oyster Stew, Farmhouse Garden Terrine, Herb Roasted Poussin with Pear-Raisin Stuffing and Cognac Demi Glace, and Wild Berry Trifle with Lemon Curd.
In 1756, Joshua Merrill built the house for his wife, Mary Winslow, where they raised ten children and pastured sheep on meadows with blueberry-laden woodlands. Since the last Merrill descendant lived in the home in 1927, six other families have enjoyed it: The Mayos, Whipples, Sawyers, Fosses, Dudleys and Millikens.
In 1964, Payson Sawyer purchased the house and he and his wife, Melissa, raised 5 children here before moving in 1978. Attending this Anniversary Celebration 38 years later, allowed Payson and daughter, Louise, to share cherished memories of the house over a special dinner.
Louise and Payson Sawyer read a real esate advertisement for the farmhouse in a 1964 copy of Down East Magazine.
"I dream almost every night of this house," said Sawyer. "I remember every knot of wood." Payson and Louise were tickled to be seated at the table in front of the main cooking hearth, as it was always their favorite room. Louise inspected the mantel over the fireplace and found the holes left by the tacks that held their Christmas stockings. She recalled finding a blacksmith's anvil and large wooden birdcages in the barn – relics left by previous owners.
At another table sat OceanView residents Peter and Mabel with guests Jill and her husband, Dave. Jill, whose great-grandmother was a Whipple, hadn't been in the house since she was 2 years old! She said her great-grandfather was quite eccentric and had lots of exotic animals and birds, including peacocks, which he would let roam around the property. "That would explain the wooden cages!" said Louise.
Payson Sawyer (center) with children Charlie, Edie and Louise.
Payson was sad to see the end of the last dinner course and commented, "No offense to my wife who was an excellent cook, but this was probably the best dinner we've ever eaten in this house!" Louise expressed how thankful they were for the visit, "This is sacred ground to us. We thought it might be too emotional to come back, but we're happy to see the house has been preserved so well and are glad it's in the hands of John Wasileski, he's been an excellent steward."
https://oceanviewrc.com/wp-content/uploads/2019/09/Whipple-260th-1.jpg
338
450
Dustin Bonk
https://oceanviewrc.com/wp-content/uploads/2019/10/ovlogo.png
Dustin Bonk
2016-07-15 00:00:00
2023-06-16 09:40:27
Whipple Farm Celebrates 260 Years