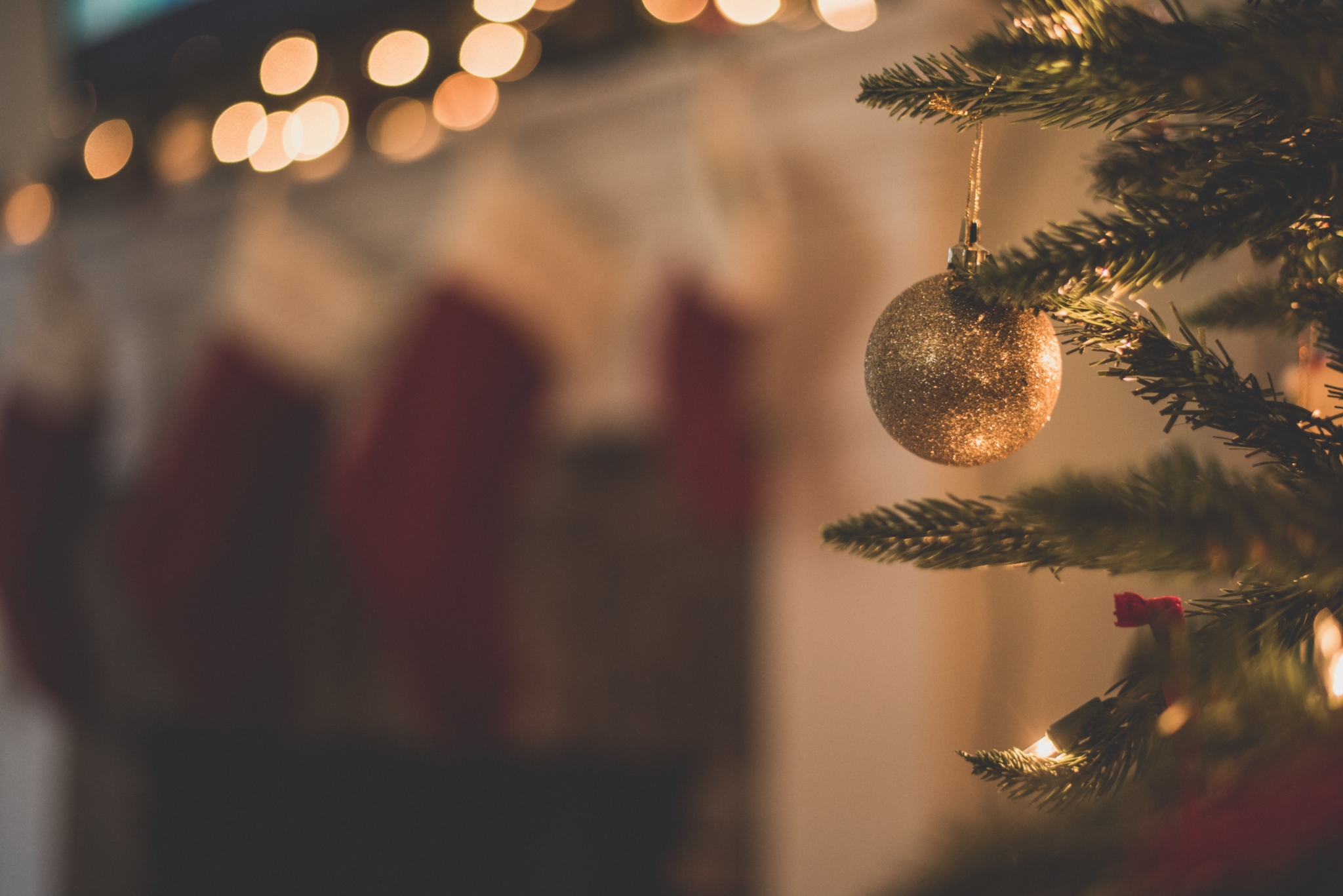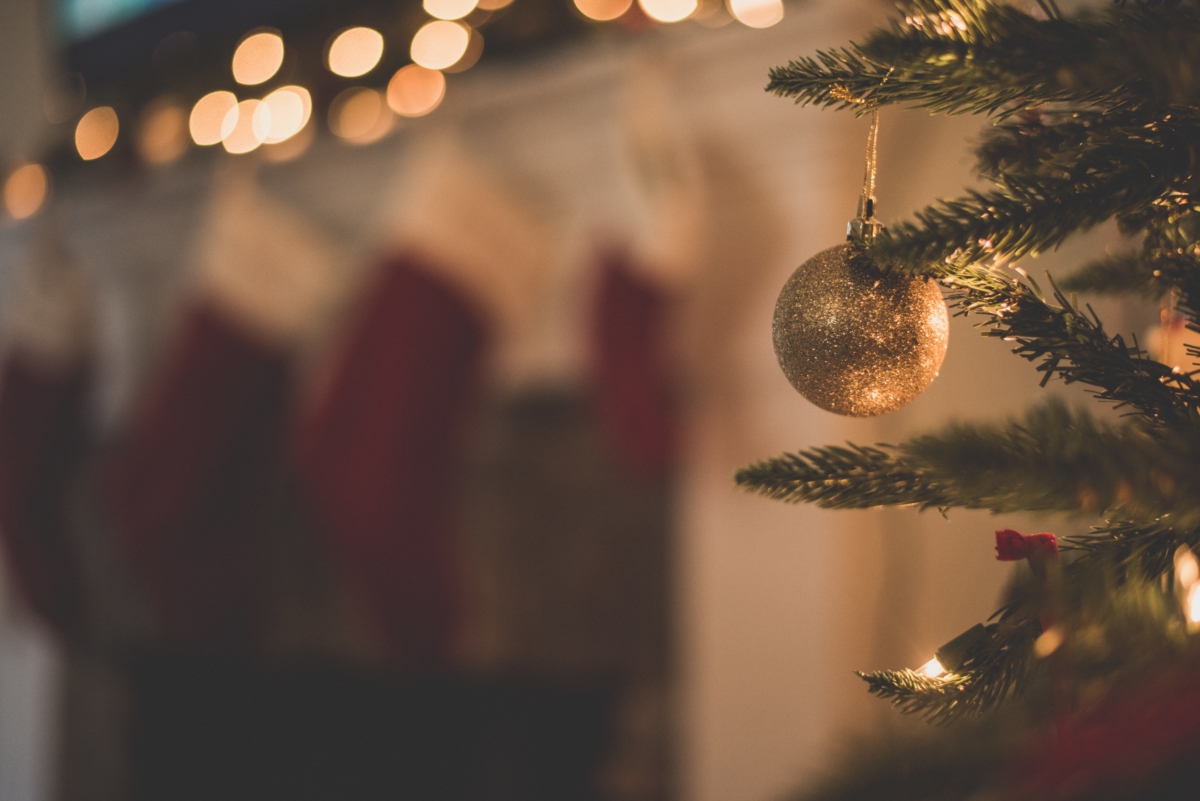 The holidays are right around the corner, and it's just about time to start decorating your home for the festivities! If you're feeling a bit of a creative block this year or simply want to go in a different direction than your usual holiday decor, allow us to help! You'll be amazed at how easy and creative you can be with just a few materials – many you probably already have lying around. Below, we've put together some of our favorite simple holiday decorating ideas for you to try!
1. Adorn Your Doorways
Do you have an entryway or main doorway in your home? Adorn it with holiday spirit! Hanging snowflakes, string lights, light up stars or Edison bulb lights add a lovely, charming glow as guests enter your home. Plus, it can stay up throughout the entire holiday season!
2. Makeover Your Mantle
Mantles are made for the holidays! Keep it warm and sophisticated by incorporating white string lights, a few trios of candlesticks, and some evergreen branches for a winter wonderland that doesn't look too overdone.
3. Stock Up on Citrus
Though it may not immediately come to mind when you think of holiday decor, it's amazing how versatile citrus fruits can be! Rather than a traditional greenery wreath, try creating a homemade wreath using various citruses using florist foam and wooden florist picks, which can be found at most craft stores.
To start, secure several larger fruits, such as oranges, sporadically around the foam. From there, continue to fill in gaps with smaller fruits, such as clementines and kumquats. Even limes would work here! Finish it off with a thick velvet ribbon, and you are sure to "wow" your guests.
Another easy way to display citrus for the holidays is by creating dried orange garlands. This one really is as easy as it sounds! Slice oranges in 1" thick round slices, lay on a baking sheet, and bake in the oven at 200 degrees F for a couple of hours until they dry out. Then, take a sewing needle and string and thread it through the tops of each orange slice, peel to peel. You can even add in other materials between the oranges, like cranberries or greenery!
4. Style Your Fireplace
Make your fireplace the star of the show this year! Of course, there is nothing cozier during the holidays than actually lighting a fire. But if you'd prefer not to deal with the smoke and upkeep of having a real fire, this is a close second! Grab a couple of birch logs and wrap them in white string lights, surrounded by votives and candlesticks for an extra glow.
5. Create a Faux Fireplace
Want to create a fireplace in a room that doesn't have one? This is a fun and creative way to make that happen! Simply search Netflix for the program "Fireplace for Your Home" to find a selection of burning, crackling fireplaces. Some are even set to classic holiday tunes – a win-win!
6. Forage for Decor
If you live in a place like Maine, you are lucky to have an abundance of natural resources right outside your back door. The holidays are a perfect time to take advantage of this! Try clipping some greenery from your trees and place in egg cups or bud vases, grouped together on a tray to make a mini forest. You could also collect several pine cones and spray paint them gold and silver, filling trifle dishes to use as centerpieces. The creative opportunities are endless!
7. Customize Your Table Settings
This is truly one of the simplest holiday decorating ideas out there! A lovely way to reuse your old holiday cards is by turning them into place cards for your holiday meal. Cut several cards into star shapes, punch a hole in the top, and tie with ribbon. Bonus points if you match holiday cards to the loved ones who sent them for a fun trip down memory lane!
8. Holiday Card Garland
Another wonderful way to display your holiday cards is by turning them into a garland to hang in a doorway, above your dining room table, or anywhere that needs a little extra holiday cheer! Hang one long evergreen branch and use clips or clothespins to attach your cards.
9. Cozy Up Your Vases
For a fun, cute addition to your decor, try this easy DIY project – all you'll need is a few glass containers and an old or thrifted sweater! First, cut off the arm of the sweater and trim to a length that will fit your vessel, with about 2" extra. Slide the container into the sleeve until it's about halfway up, then fold the edge underneath the bottom and secure with hot glue, and you're done! Fill your containers with anything you'd like – it's really that simple!
10. Mix and Match Greenery
Classic greenery like spruce or evergreen is commonly found in holiday decor, but add an unexpected twist by working in greenery that isn't as common – try olive branches, eucalyptus, or even succulents for an updated look. Pampas grass is a great option, too! This is one of those holiday decorating ideas that you'll surely want to keep up throughout the season.
11. Update Your Color Palette
Find yourself wanting to take a break from the traditional reds and greens of the holiday season? Try metallics instead! You'll be amazed at how beautiful and festive golds, bronzes, silvers and rose golds can look mixed in with greenery and white accents.
12. Put Wrapped Gifts to Work
Using wrapped gifts as holiday decor can be a simple way to add holiday cheer to your home! To really take it up a notch, focus on adding fun finishing touches you already have around the house. This could be anything from beautiful ornaments peppered through to unique tie-ons like wooden beads or foil garlands. This is a great way to get creative without breaking the bank!
13. Cluster Your Candles
Candles always set a wonderful, cozy ambiance, but try clustering your pillar candles together – this adds some nice texture and a visual appeal that will elevate your decor. You can even wrap a piece of ribbon or other festive fabric around a few to add to the appeal. Though this is one of our favorite holiday decorating ideas, you could keep these up well past the holiday season!
14. Light Your Banister
Lining your banister with evergreen is common holiday decor, but this year, try entwining small string lights throughout your greenery! It will create a festive, glittering atmosphere that you will want to keep up all year long!
OceanView at Falmouth
At OceanView, each living space is as unique as the residents who live there – especially during the holiday season, where our neighborhoods light up with a festive glow! With a wide variety of cottages and apartments to choose from, 24/7 maintenance services, and our 100% refundable entrance fee, leave behind the stress of homeownership. Simply enjoy your holiday season with loved ones!
To learn more about our active retirement community at OceanView, please contact us today!
https://oceanviewrc.com/wp-content/uploads/2021/11/chad-madden-SUTfFCAHV_A-unsplash-scaled.jpg
1709
2560
Callie Walker
https://oceanviewrc.com/wp-content/uploads/2019/10/ovlogo.png
Callie Walker
2021-11-17 08:51:50
2023-06-16 09:32:50
14 Creative Holiday Decorating Ideas to Try This Year